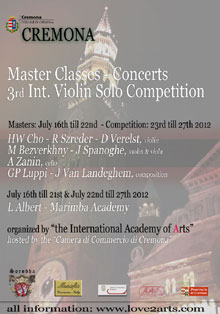 Summer Festival Cremona 2012:
Summer Festival Cremona 2012:
Master Classes for violin, viola, composition and marimba
Strings and composition:
from July 16 through July 22, 2012
Marimba Academy:
1st period: from July 16 through July 21, 2012
2nd period: from July 22 through July 27, 2012
Hosted by the Camera di Commercio in Cremona, Italy
Locations:
Master Classes:
Camera Di Commercio Di Cremona
Piazza Stradivari 5
26100 Cremona – Italy
Concerts:
Chiesa Santa Maria Maddalena
Via Realdo Colombo 2
26100 Cremona – Italy
Concerts for violin on July 26, 27 and 28
Practical organization: Love²Arts
Professors
Biography: Jenny Spanoghe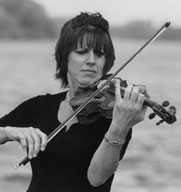 Jenny Spanoghe is known as a Belgian virtuoso soloist, on violin and viola. She is primarius of the Landini string quartet and the Trio Landini piano trio. With Jan Van Landeghem (composer, organ, piano and harpsichord-player), she forms the Landini Duo.
Her repertory goes from baroque to contemporary music. She created over 100 compositions, and a lot of composers dedicated their work to her. She is also the protagonist of a new type of instrument, the 5-string viola.
Jenny gives recitals in Belgium and abroad, in which she changes from violin to 5-string viola and to viola.
Jenny is professor of violin and chamber music at the Fontys Conservatory at Tilburg (Netherlands).
She received a lot of prizes in Belgium and abroad (prize of Sabam, first Prize of Dexia-Brussels and Prize of the French Foundation in Paris). Jenny made about 15 cd's, and is in her free time a painter (canvas on oil) and writes poems in three languages.
Biography: Mikhaïl Bezverkhny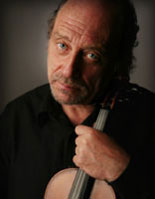 Mikhaïl Bezverkhny was born in 1947 in Saint-Petersburg. At the age of 5, he started his studies with Prof. Liubov Sigal, student of Leopold Auer.
After having completed his studies at the Central Music School of Leningrad, he joined the Tschaikowsky Conservatory of Moscow to study with Prof. Yuri Yankelevitch, one of the most prominent violin professors of the 20th century.
His career started already at the Moscow Conservatory. He won several international first prizes: the Wieniawski Violin Competition in Poznan (1967), the Chamber Music Contest in München (1969), the Chamber Music Contest in Belgrade (1972), the Violin Contest in Montreal (1972), the Interforum in Budapest (1974) and the Queen Elisabeth Violin Competition in Brussels (1976).
Since 1957, he has toured in Russia, Poland, the Czech Republic, France, Austria, Bulgaria, Belgium, Hungary, Germany, Yugoslavia, Spain, Denmark, Sweden, Switzerland, the Netherlands, Israel, England, Mexico, Columbia, the USA, etc. During these years, he has recorded over 40 albums with different recording companies, such as: Melodia, Deutsche Grammophon, Victor and Pavana. He has been the director of the "La Campanella" record company since 1993.
Over the course of his career, Mikhaïl Bezverkhny has been very active as violinist, viola player, composer, director, cinema actor and as President of the Artists for Artists ES-SO-ES association.
Biography: Robert Szreder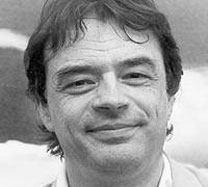 Violinist and pedagogue Robert Szreder, born in 1946 in Poland, teaches violin at the Maastricht Academy of Music. In addition, he is a guest teacher and gives master classes all over the world, including the USA, Russia, Ireland, Poland, Germany, China, and Korea.
He studied with Professor Zenon Brzewski at the academy of Warsaw and has won various awards, among which the International Gaudeamus Interpreters Competition and the Béla Bartók Competition in Budapest. He was given the Medal of Honour for Culture in Poland.
As a violinist, he has performed at a variety of festivals, such as the Holland festival, the Beethoven Festival in Sweden, the Warsaw Autumn in Poland, and the Mozart Festival in the USA. He has toured throughout North and South America, Asia, Poland, Russia, the Czech Republic, Slovakia, Bulgaria, and Hungary, and he has made many radio, television, and CD recordings. He is frequently asked to be a juror at international competitions.
Biography: Dirk Verelst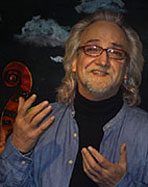 Dirk Verelst, violinist and conductor, studied at the Royal Flemish Conservatory of Antwerp with Franz Wigy and in Geneva with Henryk Szeryng. Afterwards he specialized in the performance of 18th century music with Sigiswald Kuijken and became a member of the Baroque Ensemble "La Petite Bande", with whom he played concerts all over the world and was able to perform on radio and television and to record for well-known record labels.
Dirk Verelst was a violin and chamber music professor at the Conservatories of Antwerp and Maastricht. Since 1991, he is the president of the International Academy of Arts, and, since 2003, the artistic director and president of Love²Arts. In collaboration with the Lakatos Ensemble, he has conducted concerts, live television performances and DVD recordings.
Dirk Verelst was guest professor and conductor at the Xing-Hai Conservatory of Guangzhou (China), guest professor at The Korean International University of Arts in Seoul, guest conductor of the Collegium Musicum of Kyiv, a jury member at different competitions such as the International Shabyt Violin competition in Astana (Kazakhstan), and guest professor and conductor at different master classes with his friends and colleagues, such as Mikhaïl Bezverkhny, Herman Krebbers, Philippe Hirschhorn, Roby Lakatos, Igor Frolov, Igor Oistrakh and Sung-Ju Lee.
Biography: Ludwig Albert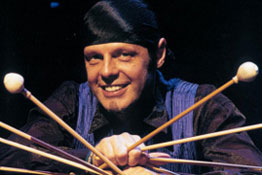 Internationally highly acclaimed, Ludwig Albert belongs with the top-flight of marimbists nowadays. After obtaining with greatest distinctions a First prize Percussion, the Superior Diploma and a Masterdegree specialisation marimba at the Royal Conservatory of Music in Antwerp (Belgium), he was in 1994 the first Belgian marimbist admitted to the Toho Gakuan Music School in Tokyo, where he studied marimba specialisation with the Japanese marimba-virtuoso Ms. Keiko Abe. Afterwards he was invited by Ms Abe and performed with her on several concert tours.
Starting 1995 Ludwig Albert searched for new sound-combinations and founded the duo "Patrasche" with the unique combination of marimba and voice. They mainly perform Albert's own compositions, creations and improvisations, all based on International traditional folk songs.
As Professor marimba he created Europe's first Marimba Master department and degree at the Royal Conservatory of Antwerp. He also established a marimba training at the Leuven University College of Arts (campus Lemmens Institute).
Read more on his web site
Biography: Gian Paolo Luppi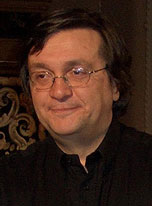 Gian Paolo Luppi was born in 1959 in San Giovanni in Persiceto (Italy). After his classical studies, he graduated in piano, choral music, instrumentation for wind ensemble, composition and conducting. His teachers were B.M. Furgeri, B. Bettinelli, F. Donatoni and A. Solbiati for Composition and T. Gotti, G. Bellini and P. Olmi for Conducting. During his studies, he also attended courses at the Accademia Musicale Chigiana in Siena, the Accademia Filarmonica in Bologna and the Accademia St. Cecilia in Roma.
Since 1984, he has been awarded many prizes in composition competitions. Several of his compositions were performed on Italian, Belgian, Spanish, Vatican and Romanian radio, and on many important festivals in Italy, Spain, Greece, Belgium, Hungary and Romania. His works have been recorded by Edipan (Roma), Crescendo (Bari), Quadrivium (Perugia) and Pentaphon (Roma), and published by Peters (Francoforte) and Edipan (Roma).
Since 1980, Gian Paolo Luppi has worked as a teacher in various Conservatories, and since 1996 he is teacher of Composition at the "G. B. Martini" Conservatory of Bologna. In 2002, he was a guest professor at the Royal University of Stockolm and, in 2003, at the Royal Conservatory of Brussels. In 2005, he taught Composition at the Summercourse of Mirecourt (France).
Biography: Jan Van Landeghem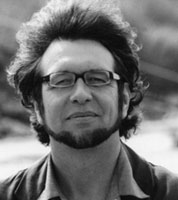 Jan Van Landeghem started his music studies at the Academy of Sint-Niklaas Belgium. As a child he started at early age to play the recorder, the flute, the organ and the piano.
Currently, he makes his career as composer (having written over 100 works), as organist, as piano player and as choir and orchestra conductor.
He also teaches at the Brussels Royal Flemish Conservatory and is director of an academy of 1000 pupils for music, theater and dance in Bornem, Belgium.
Subscription
Subscriptions are closed.