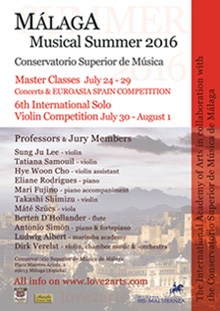 Musical Summer Malaga 2016:
Musical Summer Malaga 2016:

EuroAsia Spain Competition

for violin, viola, flute, piano and marimba
On July 28, 2016
Hosted by the Conservatorio Superior de Música de Málaga
Location:
Conservatorio Superior de Música de Málaga
Plaza Maestro Artola 2
29013 Málaga – Spain
Practical organization: Love²Arts
Jury members
Frederic Blockx
secretary
Biography: Sung-Ju Lee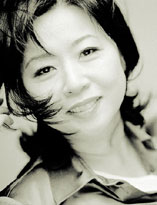 A violinist of dazzling technique and rare sensibility, Sung-Ju Lee has captivated audiences around the world with her "imaginative playing and luminous sound", her "impeccable technique", and her "taste for the dramatic and unflagging sense of authority".
This acclaimed violinist launched her career with a New York debut in 1977 as a winner of "Young Concerts Artists" and was immediately recognized as "a first-rate violinist" by the New York Times.
Designated by Musical America Magazine as one of the country's most outstanding young artists, she has a long list of prizes, starting as a top prize winner of Ewha Young People's Competition in Korea at age 11. She has gone on to win 1st prize in the Wieniawski-Kosciuszko Violin Competition in New York, a top prize in the Sibelius competition in Finland, a special citation as a finalist in the Tchaikovsky Competition in Moscow and a Laureate diploma from Queen Elisabeth Competition in Belgium.
"When Sung-Ju Lee plays, the impact is immediate", noted the Los Angeles Times. "She is exciting and powerful."
"Miss Lee has a tone of pure gold", said the Oklahoma City Journal Record.
Upon graduation from the Julliard School (where she studied with Ivan Galamian, Margaret Pardee, and Dorothy Delay), she was awarded the First Kreisler Fellowship for graduate studies. Her list of accomplishments is impressive, beginning with her appearance as a soloist with the Seoul Philharmonic at the age of 9.
Read Sung-Ju Lee's complete biography on her profile page on the Love²Arts web site
Biography: Tatiana Samouil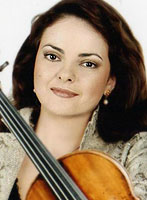 Tatiana Samouil is a Russian violinist. She entered the Moscow Tchaikovsky Conservatory to study with Sergey Fatkulin and Maya Glezarova, receiving Special Mention with her diploma. She continued to study for a master's degree at the Royal Conservatory of Brussels under Igor Oistrakh, and completed her studies with José Luis García at Madrid's Queen Sofía College of Music.
Tatiana won the 3rd Prize at the 2002 International Tchaikovsky Competition, the 1st Prize at the Prix Henry Vieuxtemps and Tenuto Competitions, as well as numerous prizes at the Michael Hill, Jean Sibelius and Queen Elizabeth competitions.
As a soloist, Tatiana has appeared with orchestras from all over the world.
As an active chamber musician, Tatiana regularly works with such artists as Caussé, Dumay, Helmerson, Labèque, and Wieder-Atherton, as well as the recently founded Malibran String Quartet.
Tatiana's 2006 debut album of the complete Prokofiev violin sonatas with pianist Plamena Mangova received excellent reviews. In 2009, she recorded Luis Gianneo's Aymara violin concerto with conductor Luis Gorelik and the Salta Symphony Orchestra.
Tatiana plays a 1714 Stradivarius, once owned by Fritz Kreisler. Since 2010, she is also playing on a violin built especially for her by Christian Bayon.
Read Tatiana Samouil's complete biography on her website
Biography: Eliane Rodrigues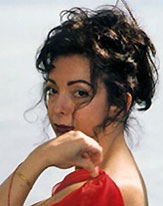 Eliane Rodrigues was born in Rio de Janeiro. Her musical talent was discovered by Helena Guimarães Galo and Arnaldo Estrella, and she later studied with Jacques De Tiège at the Conservatory of Antwerp.
She played her first recital at the age of 5 in the Teatro Mesbla in Rio de Janeiro and had her first TV performance at age 6 with the Orquestra Sinfonica Nacional conducted by Alceo Bocchino with a Haydn concerto, and twice again the same concerto with the Orquestra Sinfonica Brasileira conducted by Eleazar de Carvalho and Isaac Karabtchevsky. At age 7, she performed Mozart's KV488 with the Orquestra Sinfonica Nacional conducted by Edouard van Remoortel.
In the USA, she received the "special prize" of the jury at the Van Cliburn competition, and made an indelible impression with Beethoven's 4th piano concerto at the Queen Elisabeth Competition in Belgium. In 1994-95, she wrote her 15 Momentos Musicais and composed the Sonate Oubliée with themes from her childhood. Her Suite #1 "Rio de Janeiro" for piano and orchestra premiered on August 9, 2000. Eliane Rodrigues also played and recorded the 5 concerto's for piano from Sergei Prokofiev with the St. Petersburg Philharmonic Orchestra.
Over the last few years, Eliane has also won great acclaim as a conductor.
Eliane Rodrigues is professor at the Royal Conservatory of Antwerp.
Biography: Mari Fujino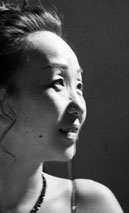 Mari Fujino, born in Ishikawa (Japan), graduated in 1998 from the Tokyo University of Music "TO-HO" under the guidance of Izumi Komoriya, and in 2002 from the Conservatory "GB Martini" in Bologna with full marks, praise and honorable mention under the guidance of Maestro Carlo Mazzoli. In 2003, she graduated from the three-year course of Chamber Music held by the International Piano Academy of Imola under the guidance of Maestro Pier Narciso Masi. She also followed training seminars held by pianists Arnaldo Cohen, Tomislav Bainov, Karl-Heinz Kämmerling, and improved with Maestro Pier Narciso Masi and Maestro Massimo Neri.
Mari has been awarded in several national and international competitions, both in solo and chamber music categories, and has worked as a piano accompanist at master classes and music courses led by various renowned teachers. She also lends her work as a pianist for the two-year experimental courses of higher education, held at the state-recognized Musical Institute "Orazio Vecchi" of Modena, and for the improvement courses of the School of Portogruaro, besides her constant collaboration with the Haydn Orchestra of Bolzano.
Mari Fujino has an intense concert activity both as a soloist and in various chamber ensembles, as well as in collaboration with various instrumentalists and singers.
Biography: Takashi Shimizu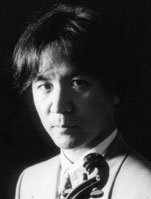 Takashi Shimizu was born in Yokosuka and started playing the violin at the age of six. Three years later, he won the important "Japan Music Competition" and made his television debut with the NHK Symphony Orchestra.
He first became the focus of public attention in his country at the age of 17 when, after winning three more prizes in national competitions, he won a scholarship to study under Jascha Heifetz at the University of Southern California. He also studied with Michèle Auclair and Yfrah Neaman.
Takashi Shimizu has been awarded many prizes at international violin competitions. His chamber music partners include Martha Argerich, Yehudi Menuhin, Ivri Gitlis, Fou Ts'ong, Alexander Rudin, Mischa Maisky and Pavel Gililov.
He has made a number of recordings with the London Symphony Orchestra, next to Bach's Solo Sonatas and Partitas, Ysaÿe's Solo Sonata and Prokofiev's Sonatas.
Takashi Shimizu is currently professor at the Tokyo National University of Fine Arts and Music.
Biography: Máté Szücs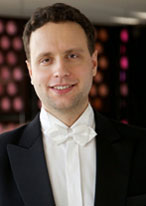 Máté Szücs was born into a musical family in Debrecen in Hungary in 1978, where he started his violin studies with Zs. Szesztay. He was eleven when he won the Special Prize of the Hungarian Violin Competition for Young Artists and shortly after he won the First Prize of the Violin Competition of Szeged (with Prof. F. Szecsodi) and the First Prize for the Best Sonata Duo of the Hungarian Chamber Music Competition.
Máté was seventeen when he changed from the violin to the viola. He graduated from the Royal Flemish Conservatory in Brussels (with Prof. Ervin Schiffer) and in Antwerp (with Prof. Leo de Neve) with the highest distinction, and undertook a period of further study at the Chapelle Musicale Reine Elisabeth in Waterloo (with Prof. Ervin Schiffer) where he obtained his diploma with the highest distinction.
Máté won the First Prize for Viola at the International Violin and Viola Competition in Liège in Belgium, and was also a finalist at the International Viola Competition "Jean Françaix" in Paris and is a Laureate of the International Music Competition "Tenuto" in Brussels. Máté was and is a member of various chamber ensembles such as the Con Spirito Piano Quartett, the Mendelssohn Ensemble, the Trio Dor and the Enigma Ensemble. Formerly holding the position of solo viola player in various prestigious orchestras such as the Royal Philharmonic Orchestra of Flanders, the Bamberger Symphoniker, the Staatskapelle Dresden, he is currently solo viola player of both the Frankfurt Radio Symphony Orchestra and the Deutsche Kammerphilharmonie Bremen.
Between 2007 and 2009, he was a teacher at the Conservatory in Saarbrücken, and since the summer of 2006 he is professor at the "Thy Masterclass" chamber music summer course in Denmark. Máté regularly plays as a soloist in Europe. Since February 2010, he is appointed 1st solo viola of the Berlin Philharmonic Orchestra.
Biography: Berten D'Hollander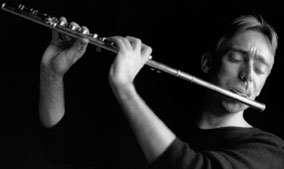 At the age of 19, Berten D'Hollander made his orchestral debut in the orchestra of the "Flemish Opera", and subsequently played in the "Flemish Ballet Orchestra", "The National Symphony Orchestra" and the Royal Opera House "La Monnaie".
Several years later, he was appointed professor of flute at the Lemmensinstituut in Leuven. He then resigned from the orchestra to pursue a career as an international soloist. In 2007, he performed the concert for Flute and Orchestra by Tchaikovsky, played for the first time in Europe.
Berten D'Hollander was equally a guest at international festivals, such as "Warsaw Autumn" (Warsaw), "Clef de soleil" (Lille), "Acanthes" (Metz) and "Ars Musica" (Brussels).
Currently, Berten is also a professor at the Musikhochschulen of Cologne and Aachen (Germany).
Biography: Antonio Simón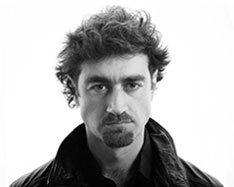 Antonio Simón, born in Jaén, holds modern piano degrees from the Madrid Real Conservatorio Superior de Música and the Zagreb Music Academy. Among his teachers were Ana Guijarro, Vladimir Krpan and Javier Herreros. Antonio is lately devoted to period instruments performance and has recently finished a Master in Fortepiano under the guidance of Richard Egarr at the Conservatory of Amsterdam.
A prizewinner in several piano competitions, he has performed at important festivals such as the Donatske Veceri in Zadar and the Quincena Musical in San Sebastián. He has also recorded for Spanish Radio Clásica (RNE) and the Albert Moraleda label.
Since 2006, he performs regularly with cellist Trino Zurita on modern as well as period instruments. Together they have recorded "The complete cello and piano works" of Franz Liszt playing historical instruments.
Antonio Simón teaches piano at the Málaga Conservatorio Superior de Música and has recently presented his doctoral dissertation "Liszt in the Iberian Peninsula" at the University of Málaga.
Biography: Ludwig Albert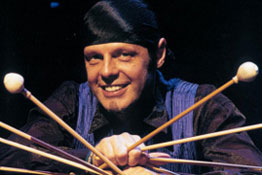 Internationally highly acclaimed, Ludwig Albert belongs with the top-flight of marimbists nowadays. After obtaining with greatest distinctions a First prize Percussion, the Superior Diploma and a Masterdegree specialisation marimba at the Royal Conservatory of Music in Antwerp (Belgium), he was in 1994 the first Belgian marimbist admitted to the Toho Gakuan Music School in Tokyo, where he studied marimba specialisation with the Japanese marimba-virtuoso Ms. Keiko Abe. Afterwards he was invited by Ms Abe and performed with her on several concert tours.
Starting 1995 Ludwig Albert searched for new sound-combinations and founded the duo "Patrasche" with the unique combination of marimba and voice. They mainly perform Albert's own compositions, creations and improvisations, all based on International traditional folk songs.
As Professor marimba he created Europe's first Marimba Master department and degree at the Royal Conservatory of Antwerp. He also established a marimba training at the Leuven University College of Arts (campus Lemmens Institute).
Read more on his web site
Biography: Dirk Verelst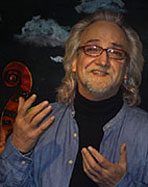 Dirk Verelst, violinist and conductor, studied at the Royal Flemish Conservatory of Antwerp with Franz Wigy and in Geneva with Henryk Szeryng. Afterwards he specialized in the performance of 18th century music with Sigiswald Kuijken and became a member of the Baroque Ensemble "La Petite Bande", with whom he played concerts all over the world and was able to perform on radio and television and to record for well-known record labels.
Dirk Verelst was a violin and chamber music professor at the Conservatories of Antwerp and Maastricht. Since 1991, he is the president of the International Academy of Arts, and, since 2003, the artistic director and president of Love²Arts. In collaboration with the Lakatos Ensemble, he has conducted concerts, live television performances and DVD recordings.
Dirk Verelst was guest professor and conductor at the Xing-Hai Conservatory of Guangzhou (China), guest professor at The Korean International University of Arts in Seoul, guest conductor of the Collegium Musicum of Kyiv, a jury member at different competitions such as the International Shabyt Violin competition in Astana (Kazakhstan), and guest professor and conductor at different master classes with his friends and colleagues, such as Mikhaïl Bezverkhny, Herman Krebbers, Philippe Hirschhorn, Roby Lakatos, Igor Frolov, Igor Oistrakh and Sung-Ju Lee.
Program for violin
Niccolò

Paganini

— 1 Caprice (free choice)
Johann Sebastian

Bach

— 1 movement from Solo Sonatas & Partitas (free choice)
Program for viola
Johann Sebastian

Bach

— 1 movement from Solo Sonatas & Partitas (free choice)
1 Caprice by

Hoffmeister

,

Campagnoli

or

Paganini

, or the same level of difficulty
Program for flute
Georg Philipp

Telemann

— 1 of the Fantasias for solo flute (free choice)
Niccolò

Paganini

— 1 of the 24 Caprices for solo flute (free choice)
Program for piano
1st movement from a sonata by

Haydn

,

Mozart

or

Beethoven

1 etude by

Chopin

,

Liszt

,

Rachmaninoff

or

Scriabin
Program for fortepiano
1st movement from a sonata by

Haydn

,

Mozart

or

Beethoven

1 etude by

Chopin

,

Liszt

,

Rachmaninoff

or

Scriabin
Program for marimba
Ludwig

Albert

— Feel the sunlight
or Keiko

Abe

— Variations on Dowland's Lachrimae Pavane
or Paul

Smadbeck

— Virginia Tate
Markus

Halt

— Marimbics
or Joz

Metzger

— Spiral Passages
or Anna

Ignatowicz

— Toccata
or Eric

Sammut

— Caméléon
or Chin Cheng

Lin

— Kaleidoscope
or L. H.

Stevens

— Rhythmic Caprice
or N. J.

Zivkovic

— Ultimatum