Biography: Jenny Spanoghe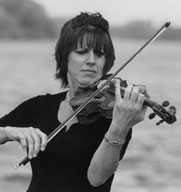 Jenny Spanoghe is known as a Belgian virtuoso soloist, on violin and viola. She is primarius of the Landini string quartet and the Trio Landini piano trio. With Jan Van Landeghem (composer, organ, piano and harpsichord-player), she forms the Landini Duo.
Her repertory goes from baroque to contemporary music. She created over 100 compositions, and a lot of composers dedicated their work to her. She is also the protagonist of a new type of instrument, the 5-string viola.
Jenny gives recitals in Belgium and abroad, in which she changes from violin to 5-string viola and to viola.
Jenny is professor of violin and chamber music at the Fontys Conservatory at Tilburg (Netherlands).
She received a lot of prizes in Belgium and abroad (prize of Sabam, first Prize of Dexia-Brussels and Prize of the French Foundation in Paris). Jenny made about 15 cd's, and is in her free time a painter (canvas on oil) and writes poems in three languages.