Biography: Marlon Dek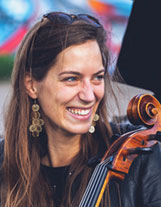 Marlon Dek started her musical education in her hometown Goes. After her studies at the Royal Conservatory in Ghent with Judith Ermert, she started playing in several classical orchestras such as the Royal Flemish Philharmonic, the Flemish Opera and Casco Phil as a freelance cellist. She also performs with dance companies, jazz musicians such as Jef Neve, and various pop groups.
Marlon took masterclasses with Ernst Reijseger, Jean-Guihen Queyras, Wen-Sinn Yang, Wolfgang Boettcher, Mischa Maisky, Maria Kliegel and Steven Isserlis.
Marlon teaches with enthusiasm at CKB Bergen op Zoom and at the Strijkersacademie, and has several private students.