Biography: Qiang Zhang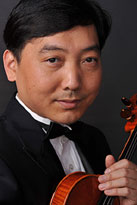 Qiang Zhang is violin Professor, Head of orchestral department of Xinghai Conservatory of Music in Guangzhou, supervisor for master students and senior violin designer. Qiang Zhang began to play violin since his childhood under the instruction of his father, Professor Guozhu Zhang. He majored in violin and graduated with honors from the Shanghai Conservatory of Music in 1989. He was violin teacher at the Xinghai Conservatory of Music in Guangzhou from 1989 to 1995. He was supervised by Professor Rudolf Werthen (violin) and Professor Marcel Lequeux (chamber music) at the Royal Conservatory of Music in Belgium since 1995, and got his master's degree. He won the first prize at the Rotary Chamber Music Competition in Belgium in 1997.
Since 1996, he had been employed in I Flamminghi, one of the most famous chamber orchestras in Europe, the Royal Philharmonic Orchestra of Belgium, and other orchestras. He performed in many countries and regions and recorded a large number of records for world-renowned record companies.
Qiang Zhang returned to the Xinghai Conservatory of Music in Guangzhou as a violin Professor in November, 2003. Since then, his students have obtained nearly 30 competition awards.
He held a number of solo and ensemble concerts which received high praise, and also organized many student concerts. He often gives lectures, and participates in master classes. He is active in scientific research and has presided over the completion of provincial key scientific research projects with a large number of Chinese and foreign musicians, such as the "Research of violin technology training in China". He has been deployed by the Guangdong Provincial Government to participate in educational supervision and evaluation.