Biography: Walter Boeykens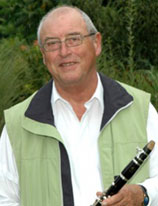 Walter Boeykens' career took him from being a member of the Philharmonic Orchestra of the Belgian Radio and Television (until 1984) to a leading clarinet soloist, performing at major music festivals, as a soloist and in various chamber music combinations. He played under Pierre Boulez, Gary Bertini, Leonard Bernstein, James Conlon and other well-known conductors. Lorin Maazel invited him both as coach and as soloist to the prestigious Red Sea International Music Festival in Israel.
His discography includes the majority of the masterpieces for his instrument. For Harmonia Mundi France, the Walter Boeykens Ensemble has recorded all the relevant compositions of the clarinet chamber music repertoire.
Walter Boeykens holds a number of important educational posts, at the Royal Conservatory of Music in Antwerp (where he founded the Walter Boeykens Clarinet Choir), the Conservatory of Rotterdam, the Académie d'Été in Nice, the Cité de la Musique in Paris, the Scuola di Alto Perfezionamente Musicale in Turin and the Showa Music Academy in Japan.
Walter Boeykens was equally a guest conductor for the Royal Philharmonic Orchestra of Flanders and the Brabants Orkest in the Netherlands. His concerts with the Orchestra Filarmonica di Torino were highly acclaimed in the Italian press. As an editor, Walter Boeykens has been associated with De Haske Publications since 1992, giving his name to a unique collection of publications for clarinet.
In December 2001, he was the laureate of the first Klara Career Price as a tribute to his complete career as a musician, coach and conductor.