Summer Academy Saas-Fee 2017:
Summer Academy Saas-Fee 2017:
7th International Solo Violin Competition
From August 10 through August 12, 2017
Practical organization: Love²Arts
Location:
Evangelisch Reformierte Kirche
Untere Dorfstrasse
3906 Saas-Fee – Switzerland
Jury members

Hye-Woon Cho
violin - assistant
Biography: Sung-Ju Lee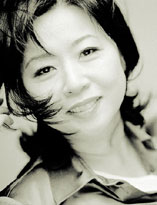 A violinist of dazzling technique and rare sensibility, Sung-Ju Lee has captivated audiences around the world with her "imaginative playing and luminous sound", her "impeccable technique", and her "taste for the dramatic and unflagging sense of authority".
This acclaimed violinist launched her career with a New York debut in 1977 as a winner of "Young Concerts Artists" and was immediately recognized as "a first-rate violinist" by the New York Times.
Designated by Musical America Magazine as one of the country's most outstanding young artists, she has a long list of prizes, starting as a top prize winner of Ewha Young People's Competition in Korea at age 11. She has gone on to win 1st prize in the Wieniawski-Kosciuszko Violin Competition in New York, a top prize in the Sibelius competition in Finland, a special citation as a finalist in the Tchaikovsky Competition in Moscow and a Laureate diploma from Queen Elisabeth Competition in Belgium.
"When Sung-Ju Lee plays, the impact is immediate", noted the Los Angeles Times. "She is exciting and powerful."
"Miss Lee has a tone of pure gold", said the Oklahoma City Journal Record.
Upon graduation from the Julliard School (where she studied with Ivan Galamian, Margaret Pardee, and Dorothy Delay), she was awarded the First Kreisler Fellowship for graduate studies. Her list of accomplishments is impressive, beginning with her appearance as a soloist with the Seoul Philharmonic at the age of 9.
Read Sung-Ju Lee's complete biography on her profile page on the Love²Arts web site
Biography: Dan Li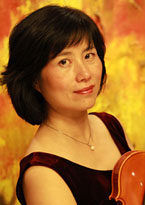 Dan Li is a Belgian violinist and violin professor at the Xinghai Conservatory of Music in China. She graduated from the Royal Belgian Conservatory of Music (Ghent) with a master's degree. Prior to that, she graduated from the Shanghai Conservatory of Music, and got her Bachelor's degree. Her supervisors were Professor Rudolf Werthen (violin), Professor Marcel Lequeux (chamber music), Professor Lee Keqiang and Professor Zheng Shisheng, among others.
She received high acclaim as the soloist, the first violin of the Quartet and concert master of the Guangzhou Symphony Orchestra. She got the first prize for trio and second prize for duet in 1997 at the Rotary International Chamber Music Competition.
Since 1996, she has been employed in the most famous European chamber orchestras, such as I Fiamminghi, the Royal Philharmonic Orchestra of Belgium, and the Belgian Broadcasting Orchestra. She has performed in many countries and regions around the world and recorded a large number of records with world-renowned record companies such as TELARC, EMI and SOF.
In November 2003, Dan was recruited for the Xinghai Conservatory of Music in Guangzhou as a violin Professor. Her students have won over 30 awards at different music competition, and she received the best mentor award several times.
Biography: Tatiana Samouil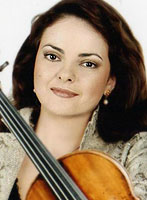 Tatiana Samouil is a Russian violinist. She entered the Moscow Tchaikovsky Conservatory to study with Sergey Fatkulin and Maya Glezarova, receiving Special Mention with her diploma. She continued to study for a master's degree at the Royal Conservatory of Brussels under Igor Oistrakh, and completed her studies with José Luis García at Madrid's Queen Sofía College of Music.
Tatiana won the 3rd Prize at the 2002 International Tchaikovsky Competition, the 1st Prize at the Prix Henry Vieuxtemps and Tenuto Competitions, as well as numerous prizes at the Michael Hill, Jean Sibelius and Queen Elizabeth competitions.
As a soloist, Tatiana has appeared with orchestras from all over the world.
As an active chamber musician, Tatiana regularly works with such artists as Caussé, Dumay, Helmerson, Labèque, and Wieder-Atherton, as well as the recently founded Malibran String Quartet.
Tatiana's 2006 debut album of the complete Prokofiev violin sonatas with pianist Plamena Mangova received excellent reviews. In 2009, she recorded Luis Gianneo's Aymara violin concerto with conductor Luis Gorelik and the Salta Symphony Orchestra.
Tatiana plays a 1714 Stradivarius, once owned by Fritz Kreisler. Since 2010, she is also playing on a violin built especially for her by Christian Bayon.
Read Tatiana Samouil's complete biography on her website
Biography: Dirk Verelst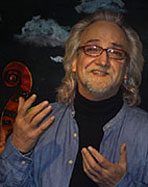 Dirk Verelst, violinist and conductor, studied at the Royal Flemish Conservatory of Antwerp with Franz Wigy and in Geneva with Henryk Szeryng. Afterwards he specialized in the performance of 18th century music with Sigiswald Kuijken and became a member of the Baroque Ensemble "La Petite Bande", with whom he played concerts all over the world and was able to perform on radio and television and to record for well-known record labels.
Dirk Verelst was a violin and chamber music professor at the Conservatories of Antwerp and Maastricht. Since 1991, he is the president of the International Academy of Arts, and, since 2003, the artistic director and president of Love²Arts. In collaboration with the Lakatos Ensemble, he has conducted concerts, live television performances and DVD recordings.
Dirk Verelst was guest professor and conductor at the Xing-Hai Conservatory of Guangzhou (China), guest professor at The Korean International University of Arts in Seoul, guest conductor of the Collegium Musicum of Kyiv, a jury member at different competitions such as the International Shabyt Violin competition in Astana (Kazakhstan), and guest professor and conductor at different master classes with his friends and colleagues, such as Mikhaïl Bezverkhny, Herman Krebbers, Philippe Hirschhorn, Roby Lakatos, Igor Frolov, Igor Oistrakh and Sung-Ju Lee.
Biography: Qiang Zhang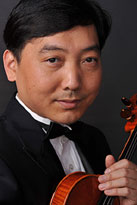 Qiang Zhang is violin Professor, Head of orchestral department of Xinghai Conservatory of Music in Guangzhou, supervisor for master students and senior violin designer. Qiang Zhang began to play violin since his childhood under the instruction of his father, Professor Guozhu Zhang. He majored in violin and graduated with honors from the Shanghai Conservatory of Music in 1989. He was violin teacher at the Xinghai Conservatory of Music in Guangzhou from 1989 to 1995. He was supervised by Professor Rudolf Werthen (violin) and Professor Marcel Lequeux (chamber music) at the Royal Conservatory of Music in Belgium since 1995, and got his master's degree. He won the first prize at the Rotary Chamber Music Competition in Belgium in 1997.
Since 1996, he had been employed in I Flamminghi, one of the most famous chamber orchestras in Europe, the Royal Philharmonic Orchestra of Belgium, and other orchestras. He performed in many countries and regions and recorded a large number of records for world-renowned record companies.
Qiang Zhang returned to the Xinghai Conservatory of Music in Guangzhou as a violin Professor in November, 2003. Since then, his students have obtained nearly 30 competition awards.
He held a number of solo and ensemble concerts which received high praise, and also organized many student concerts. He often gives lectures, and participates in master classes. He is active in scientific research and has presided over the completion of provincial key scientific research projects with a large number of Chinese and foreign musicians, such as the "Research of violin technology training in China". He has been deployed by the Guangdong Provincial Government to participate in educational supervision and evaluation.
Rules
The competition is open to violinists of all nationalities, who are not older than 30 at the start of the competition.
A maximum of twelve candidates will be selected during the pre-elimination. These twelve candidates will play all three rounds of the competition.
Participants pay an application fee of 150 €, which is not refundable.
If the level of the candidates is too low, the competition may be canceled, in which case the application fee will be refunded.
Please find the complete rules here (PDF)
Prizes
1st prize, prize of the International Academy Of Arts: 3000 €
2nd prize, prize of Sorodha: 2000 €
3rd prize, prize offered by Dimitri Musafia: violin case by Dimitri Musafia
Special prize
Program
1st round (Thursday, August 10):
Johann Sebastian

Bach

— Adagio and Fuge from 1 of the 3 sonatas for solo violin (free choice)
Niccolò

Paganini

— 2 caprices (free choice)
Eugène

Ysaÿe

— 1 solo violin sonata (free choice)
2nd round (Friday, August 11):
Arthur

Honegger

— Sonata for solo violin (score)
Choice piece:


Takahiro

Sakuma

— Chain Reaction (score | video)
or
Gian Paolo

Luppi

— 1 of the 2 caprices from Due Liriche (score)

Choice piece:


Isang

Yun

— Kontraste (2nd movement)
or
Luciano

Berio

— Sequenza #8
Final round (Saturday, August 12):
Choice piece:


Béla

Bartók

— Solo sonata (Chaconne)
or
Alfred

Schnittke

— A Paganini
or
Niccolò

Paganini

— Nel cor più non mi sento

One solo piece of a maximum duration of 10 minutes (free choice)
It is not allowed to repeat one of the pieces played in the 1st or 2nd round.
Bus from Antwerp to Saas-Fee and back
A round-trip bus is scheduled to leave on August 1 from the PIDPA parking (Desguinlei 246) in Antwerp. The cost price for the round trip is 95 €. For more information, please contact the Academy at +32 (0)473 40 69 11.
Subscription
The following need to be carried out before June 15, 2017:
subscription through the online application form
transfer of the (non-refundable) application fee of 150 euro (bank details below)
send in a video recording of the candidate playing either a sonata of choice by Ysaÿe or "Adagio and Fuge" from one of the 3 sonatas by Bach
OR
forward a letter of recommendation to
The video needs to be in either AVI, MP4 or MKV format, and be sent via the free WeTransfer service to . Please be sure to enter your name in the message field of the WeTransfer uploader so there is no confusion about who is playing in the video.
The subscription is considered invalid if any of the above is not carried out before the deadline has passed.
Bank details:
IBAN: BE03 3200 6948 2584
BIC: BBRUBEBB
Address:
Love2Arts, bvba
Desguinlei 90 / 15Y
2018 Antwerpen
Belgium
Notes
The candidates of the violin competition are not obliged to follow the master classes.