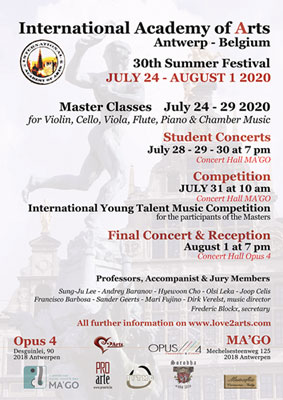 Summer Festival Antwerp 2020:
Summer Festival Antwerp 2020:
Master Classes for violin, viola, cello, flute, piano and chamber music
From July 24 through July 29, 2020
Student Concerts from July 28 through 30 at 7pm
Location:
Practical organization:
Professors
Prof.

Andrey Baranov
violin
Prof.

Sander Geerts
viola
Prof.

Francisco Barbosa
flute
Accompanists
Biography: Sung-Ju Lee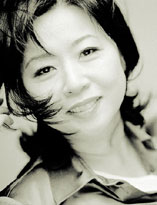 A violinist of dazzling technique and rare sensibility, Sung-Ju Lee has captivated audiences around the world with her "imaginative playing and luminous sound", her "impeccable technique", and her "taste for the dramatic and unflagging sense of authority".
This acclaimed violinist launched her career with a New York debut in 1977 as a winner of "Young Concerts Artists" and was immediately recognized as "a first-rate violinist" by the New York Times.
Designated by Musical America Magazine as one of the country's most outstanding young artists, she has a long list of prizes, starting as a top prize winner of Ewha Young People's Competition in Korea at age 11. She has gone on to win 1st prize in the Wieniawski-Kosciuszko Violin Competition in New York, a top prize in the Sibelius competition in Finland, a special citation as a finalist in the Tchaikovsky Competition in Moscow and a Laureate diploma from Queen Elisabeth Competition in Belgium.
"When Sung-Ju Lee plays, the impact is immediate", noted the Los Angeles Times. "She is exciting and powerful."
"Miss Lee has a tone of pure gold", said the Oklahoma City Journal Record.
Upon graduation from the Julliard School (where she studied with Ivan Galamian, Margaret Pardee, and Dorothy Delay), she was awarded the First Kreisler Fellowship for graduate studies. Her list of accomplishments is impressive, beginning with her appearance as a soloist with the Seoul Philharmonic at the age of 9.
Read Sung-Ju Lee's complete biography on her profile page on the Love²Arts web site
Biography: Hye-Woon Cho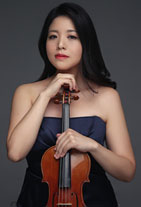 Hye Woon Cho graduated from Busan Arts High, completed Pre-School of the Korea National University of Arts, and graduated with distinction from the Korean National University of Arts. She then went to the United States and completed her master's degree at Mannes College, and studied for her D.M.A degree at Boston University.
She has appeared on Italian radio with Italian Radio Sinfonia and made her New York debut at Carnegie Hall by winning the Special Presentation Winner audition. The Clara Piano Quartet, of whom she is the leader, won the first prize at the Boston International Chamber Music Competition and made their chamber music debut at Carnegie Hall. She performed at the 20th Century Chamber Music Festival (New School Univ.), Brahms Festival chamber music (Boston Univ.), served as guest principal of the New Jersey Philharmonic, and actively performed in New York and Boston.
Upon returning to Korea in 2009, she served as principal of Changwon Philharmonic Orchestra until 2012, and has continued to actively perform in orchestras and ensembles as principal of Joy of Strings, concertmaster of Busan Kamer Symphony, guest concertmaster of Gwangmyeong Symphony Orchestra, guest principal of Busan World Symphony as well as Busan Symphony Orchestra. She has held recitals in Seoul and Busan, and performed in the Young Artists Concert hosted by the Music Association of Busan, concert commemorating the 120th anniversary of Korea-France relations hosted by the Embassy of France, IBK Hall Opening Festival at Seoul Arts Center, Chamberhall Opening Festival at Busan Cultural Center, and has performed with various orchestras including Kimhae Youth Orchestra, Bada Orchestra, Busan Kamer Symphony, Praha Chamber Orchestra, and Busan Chamber Music Society.
She has also been invited as professor at Fall Foliage Chamber Music Program (2008, U.S.), International Children's Arts and Culture Festival (2011, Malaysia), International Academy of Arts, Cremona (2012 & 2014, Italy), Pyeongchang Special Music Festival (2013), Master Class, Malaga (2016, Spain), Jirisan International Music Festival (2017), International Academy of Arts Summer Festival in Saas-Fee (2017, Switzerland), Alps Music Festival (2018, France), where she has been further widening her musical spectrum through performances and masterclasses.
Hye Woon Cho continues to pursue her musical passion as current principal of Joy of Strings, and is nurturing future musicians in Busan National University, Kyungsung University, Korean National Institute of the Gifted in Arts, Busan National Institute of the Gifted in Arts, Busan High School of Arts, and Busan Middle School of Arts.
Biography: Olsi Leka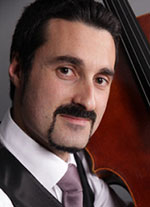 Olsi Leka was born in Tirana (Albania) in 1980. He started studying the cello at the age of 6. During his studies, he twice obtained the first prize at the "Young Virtuosi" competition (junior and senior categories), the first prize at the "Lyons Club Interpretation Competition" in Belgium and the second prize at the "International Music Competition" in Cyprus.
Aged 24, during his last year at the conservatory, he was appointed Cello Solo – First Cellist at the National Orchestra of Belgium. This allowed him to work with a multitude of conductors and soloists of international renown. Since then, he performed at chamber music events and festivals such as "Schiermonnikoog Festival" in Netherlands, the "Different trains Festival" in Albania, the "Gjövig Musicfest" in Norway and the "Excellent Concerts" in the Netherlands, and performed in recitals with the pianists Daniel Blumenthal, Alexandar Madzar, François-René Duchable, Adam Laloum, Liebrecht Vanbeckevoort, Desar Sulejmani and Peter Caelen.
The interpretation of the concerto "Tout un monde lointain..." by the French composer Henri Dutilleux was another career highlight. After preparation of the work with the composer, it was played and recorded live in Brussels in his presence. The composer said it was one of the best interpretations he had ever heard.
In 2007 he was appointed cello professor at the Royal Conservatory of Antwerp, and in 2015 at the Royal Conservatory of Brussels. He is regularly invited for cello master classes around the world and plays an exceptional cello of the famous violin maker Raffaele Gagliano, generously made available to him by the Eric Feldbusch Foundation.
Biography: Mari Fujino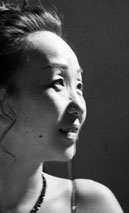 Mari Fujino, born in Ishikawa (Japan), graduated in 1998 from the Tokyo University of Music "TO-HO" under the guidance of Izumi Komoriya, and in 2002 from the Conservatory "GB Martini" in Bologna with full marks, praise and honorable mention under the guidance of Maestro Carlo Mazzoli. In 2003, she graduated from the three-year course of Chamber Music held by the International Piano Academy of Imola under the guidance of Maestro Pier Narciso Masi. She also followed training seminars held by pianists Arnaldo Cohen, Tomislav Bainov, Karl-Heinz Kämmerling, and improved with Maestro Pier Narciso Masi and Maestro Massimo Neri.
Mari has been awarded in several national and international competitions, both in solo and chamber music categories, and has worked as a piano accompanist at master classes and music courses led by various renowned teachers. She also lends her work as a pianist for the two-year experimental courses of higher education, held at the state-recognized Musical Institute "Orazio Vecchi" of Modena, and for the improvement courses of the School of Portogruaro, besides her constant collaboration with the Haydn Orchestra of Bolzano.
Mari Fujino has an intense concert activity both as a soloist and in various chamber ensembles, as well as in collaboration with various instrumentalists and singers.
Cost price
The application fee is 50€ (non-refundable).
The cost price of the Master Classes is 600€ (full time) or 300€ (half time). This also includes use of the classroom, accompaniment during lessons and concerts, permission to attend other courses as a passive student, a certificate of participation and insurance (except health care).
Lessons
The courses will take place at the MA'GO Music Academy in Antwerp.
All professors will give six courses except Andrey Baranov.
| DAY | 24 | 25 | 26 | 27 | 28 | 29 | 30 | 31 |
| --- | --- | --- | --- | --- | --- | --- | --- | --- |
| Andrey Baranov | | | | | X | X | X | X |
| Other professors | X | X | X | X | X | X | | |
Chamber music
Chamber music lessons will be arranged freely among students and professors on location.
Concerts
Three student concerts are scheduled. They are to take place on July 28, July 29 and on July 30 at 7pm at the MA'GO concert hall.
Passive listeners
It is possible to attend the master classes not as a participant but as a passive listener for the price of 100€ (per person), to be paid on location. You will receive a personal pass, with which you may access any master class of our 2019 Summer Festival.
International Young Talent Music Competition
Students of the master classes have the opportunity to also subscribe to the International Young Talent Music Competition, which will take place on Friday, July 31. The application fee for this competition is 100€. Please find all information regarding this competition here.
Subscription
To subscribe to the master classes, please complete the online application form. The application fee(s), the course fee, as well as the application form need to arrive before July 15, 2020, otherwise the subscription is considered invalid. Please mention "Summer Festival 2020" as well as your name in the message field of your money transfer to avoid problems.
Bank details:
IBAN: BE03 3200 6948 2584
BIC: BBRUBEBB
Address:
Love2Arts, bvba
Desguinlei 90 / 15Y
2018 Antwerpen
Belgium
Notes
Participants of the master classes are not required to subscribe to the International Young Talent Music Competition.