Biography: Angelo Zanin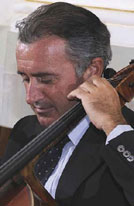 Angelo Zanin was born in Mogliano Veneto (Treviso). He studied cello at the B. Marcello Music Conservatory of Venice, with Aldo Pais and Adriano Vendramelli, getting a master degree in 1982 with the maximum of the votes. He also studied with Paul Szabo, cellist of the famous Vegh Quartett, and was also a pupil of Pablo Casals.
He was First Cellist of the orchestra "Little Simphonya", conducted by Sirio Piovesan, with whom he played as soloist on important festivals in Italy, France and Germany, and played in the orchestra "Villa Lobos", a group of only cellos, coordinated by Mario Brunello.
From the age of 25, he played in the Quartett of Venice with whom he has recorded complete works of Malipiero, Bazzini, Saint-Saëns, Hartmann, Beethoven, Boccherini, Verdi, Respighi, Martucci, etc. He had among his teachers two of the most important figures of the European history of the Quartett of this century: Sandor Vegh (founding violinist of the Vegh Quartett and director of the Camerata of Salisburgo), and Piero Farulli, alto in the Italian Quartett. At the quartett, he taught courses at the Fiesole Music School and at the Siena Chigiana Academy.
Zanin collaborated with big musicians such as Bruno Giuranna, Oscar Ghiglia, Pietro De Maria, Lukas Foss, Michele Campanella and the Borodin Quartett. He also played in front of John Paul II and the President of Italy, that conferred him a prize for the 20th anniversary of the activity.
Angelo Zanin taught in Italy, the USA and Austria, and is cello teacher at the Conservatory of Music of Venice.
Angelo Zanin plays a G. B. Martinenghi, Venezia, 1931.