Biography: Berten D'Hollander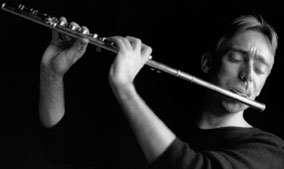 At the age of 19, Berten D'Hollander made his orchestral debut in the orchestra of the "Flemish Opera", and subsequently played in the "Flemish Ballet Orchestra", "The National Symphony Orchestra" and the Royal Opera House "La Monnaie".
Several years later, he was appointed professor of flute at the Lemmensinstituut in Leuven. He then resigned from the orchestra to pursue a career as an international soloist. In 2007, he performed the concert for Flute and Orchestra by Tchaikovsky, played for the first time in Europe.
Berten D'Hollander was equally a guest at international festivals, such as "Warsaw Autumn" (Warsaw), "Clef de soleil" (Lille), "Acanthes" (Metz) and "Ars Musica" (Brussels).
Currently, Berten is also a professor at the Musikhochschulen of Cologne and Aachen (Germany).