Biography: Dan Li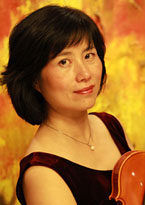 Dan Li is a Belgian violinist and violin professor at the Xinghai Conservatory of Music in China. She graduated from the Royal Belgian Conservatory of Music (Ghent) with a master's degree. Prior to that, she graduated from the Shanghai Conservatory of Music, and got her Bachelor's degree. Her supervisors were Professor Rudolf Werthen (violin), Professor Marcel Lequeux (chamber music), Professor Lee Keqiang and Professor Zheng Shisheng, among others.
She received high acclaim as the soloist, the first violin of the Quartet and concert master of the Guangzhou Symphony Orchestra. She got the first prize for trio and second prize for duet in 1997 at the Rotary International Chamber Music Competition.
Since 1996, she has been employed in the most famous European chamber orchestras, such as I Fiamminghi, the Royal Philharmonic Orchestra of Belgium, and the Belgian Broadcasting Orchestra. She has performed in many countries and regions around the world and recorded a large number of records with world-renowned record companies such as TELARC, EMI and SOF.
In November 2003, Dan was recruited for the Xinghai Conservatory of Music in Guangzhou as a violin Professor. Her students have won over 30 awards at different music competition, and she received the best mentor award several times.