Biography: Eliane Rodrigues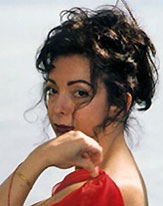 Eliane Rodrigues was born in Rio de Janeiro. Her musical talent was discovered by Helena Guimarães Galo and Arnaldo Estrella, and she later studied with Jacques De Tiège at the Conservatory of Antwerp.
She played her first recital at the age of 5 in the Teatro Mesbla in Rio de Janeiro and had her first TV performance at age 6 with the Orquestra Sinfonica Nacional conducted by Alceo Bocchino with a Haydn concerto, and twice again the same concerto with the Orquestra Sinfonica Brasileira conducted by Eleazar de Carvalho and Isaac Karabtchevsky. At age 7, she performed Mozart's KV488 with the Orquestra Sinfonica Nacional conducted by Edouard van Remoortel.
In the USA, she received the "special prize" of the jury at the Van Cliburn competition, and made an indelible impression with Beethoven's 4th piano concerto at the Queen Elisabeth Competition in Belgium. In 1994-95, she wrote her 15 Momentos Musicais and composed the Sonate Oubliée with themes from her childhood. Her Suite #1 "Rio de Janeiro" for piano and orchestra premiered on August 9, 2000. Eliane Rodrigues also played and recorded the 5 concerto's for piano from Sergei Prokofiev with the St. Petersburg Philharmonic Orchestra.
Over the last few years, Eliane has also won great acclaim as a conductor.
Eliane Rodrigues is professor at the Royal Conservatory of Antwerp.