Biography: Gian Paolo Luppi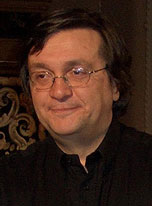 Gian Paolo Luppi was born in 1959 in San Giovanni in Persiceto (Italy). After his classical studies, he graduated in piano, choral music, instrumentation for wind ensemble, composition and conducting. His teachers were B.M. Furgeri, B. Bettinelli, F. Donatoni and A. Solbiati for Composition and T. Gotti, G. Bellini and P. Olmi for Conducting. During his studies, he also attended courses at the Accademia Musicale Chigiana in Siena, the Accademia Filarmonica in Bologna and the Accademia St. Cecilia in Roma.
Since 1984, he has been awarded many prizes in composition competitions. Several of his compositions were performed on Italian, Belgian, Spanish, Vatican and Romanian radio, and on many important festivals in Italy, Spain, Greece, Belgium, Hungary and Romania. His works have been recorded by Edipan (Roma), Crescendo (Bari), Quadrivium (Perugia) and Pentaphon (Roma), and published by Peters (Francoforte) and Edipan (Roma).
Since 1980, Gian Paolo Luppi has worked as a teacher in various Conservatories, and since 1996 he is teacher of Composition at the "G. B. Martini" Conservatory of Bologna. In 2002, he was a guest professor at the Royal University of Stockolm and, in 2003, at the Royal Conservatory of Brussels. In 2005, he taught Composition at the Summercourse of Mirecourt (France).