Biography: Marianne Chen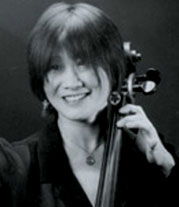 Marianne Chen, born in Chicago, studied cello at the Juilliard Pre-College, and then at the Juilliard School under Lorne Munroe where she obtained her bachelor's degree. She continued her studies under Antonio Janigro at the Musikhochschule in Stuttgart and the Mozarteum in Salzburg. For several years, she studied Chamber music with Robert Mann (Juilliard Quartet), with Alexander and Mischa Schneider (Budapest Quartet), and Felix Galimir. She also studied at the Chigiana Academy of Siena, where she obtained the Diploma of Merit.
Marianne Chen was guest professor of cello at Garden State Music Festival (New Jersey), the Gustav Mahler Academy in Bolzano, the School of Music in Fiesole, the Juilliard School and in Greece. She has also been invited to assist Natalia Gutman.
Marianne Chen has performed in major concert halls and has recorded for Dynamic, Tactus and the New Age, and various television networks.
Marianne regularly holds master classes in Europe and the United States. Many of her students have won prizes in national and international competitions.