Biography: Naria Kim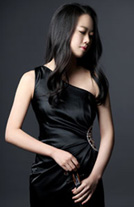 Naria Kim made her soloist debut performing with the Seoul Philharmonic Orchestra as a winner of the Seoul Philharmonic Orchestra Soloist Audition at the age of twelve.
She is a prize winner of numerous national and international competitions including the Kumho Young Artist Audition, the Seoul Philharmonic Orchestra Soloist Audition, the Osaka International Music Competition, the Eurasia International Violin Competition, 1st prize at the Alexander & Buono International String Competition, 1st prize at the CBS national competition, overall grand prize at the Korean artist association competition, 1st prize at the Seoul philharmonic orchestra competition and second prize at the Korea Times Competition.
Naria Kim attended the Korea National University of Arts through the early entrance program for gifted students, completing her BM in only three years. She continued her study at the Yale School of Music and is a recent graduate of the SUNY Stony Brook where she studied with Philip Setzer as a DMA student.
Recently, she has joined the Chung-Ang University as a faculty member, became a member of the "We Soloists" Chamber group and the JK Ensemble, and is serving as Concertmaster of the New Korea Philharmonic Orchestra.