Biography: Tatiana Samouil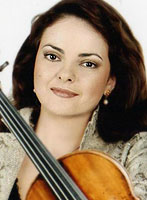 Tatiana Samouil is a Russian violinist. She entered the Moscow Tchaikovsky Conservatory to study with Sergey Fatkulin and Maya Glezarova, receiving Special Mention with her diploma. She continued to study for a master's degree at the Royal Conservatory of Brussels under Igor Oistrakh, and completed her studies with José Luis García at Madrid's Queen Sofía College of Music.
Tatiana won the 3rd Prize at the 2002 International Tchaikovsky Competition, the 1st Prize at the Prix Henry Vieuxtemps and Tenuto Competitions, as well as numerous prizes at the Michael Hill, Jean Sibelius and Queen Elizabeth competitions.
As a soloist, Tatiana has appeared with orchestras from all over the world.
As an active chamber musician, Tatiana regularly works with such artists as Caussé, Dumay, Helmerson, Labèque, and Wieder-Atherton, as well as the recently founded Malibran String Quartet.
Tatiana's 2006 debut album of the complete Prokofiev violin sonatas with pianist Plamena Mangova received excellent reviews. In 2009, she recorded Luis Gianneo's Aymara violin concerto with conductor Luis Gorelik and the Salta Symphony Orchestra.
Tatiana plays a 1714 Stradivarius, once owned by Fritz Kreisler. Since 2010, she is also playing on a violin built especially for her by Christian Bayon.
Read Tatiana Samouil's complete biography on her website